33rd Annual Hall of Fame Gala - Celebrating the 2021 and 2022 Inductees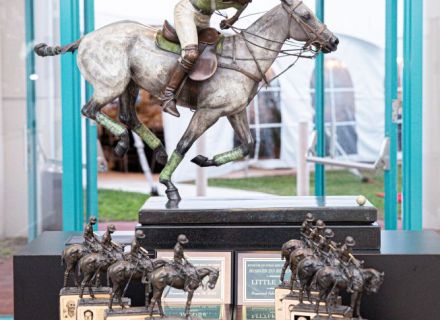 The National Museum of Polo and Hall of Fame made history this past weekend as they celebrated their 33rd Annual Hall of Fame Induction Gala. On the evening of Friday, February 18th, for the first time ever, the Museum inducted twelve award recipients, to celebrate inductees for both 2021 and 2022, in one unforgettable night.
2020 Hall of Fame Inductee Tommy Biddle receives his award from Museum president Melissa Ganzi - Alex Pacheco Photo
Hall of Fame inductees included John F. Ivory, Jr., Julio Arellano, Cornelius Vanderbilt Whitney, and Thomas J. Biddle, Jr. Recipients of the Philip Iglehart Award included Bert B. Beveridge, Paul Wollenman, Horace A. Laffaye, and Daniel M. Scheraga. The newly inducted members of the Museum's Horses to Remember, which honors the most distinguished polo ponies, were Little Mary, Silverada, Jacobs, and Cynthia Lola.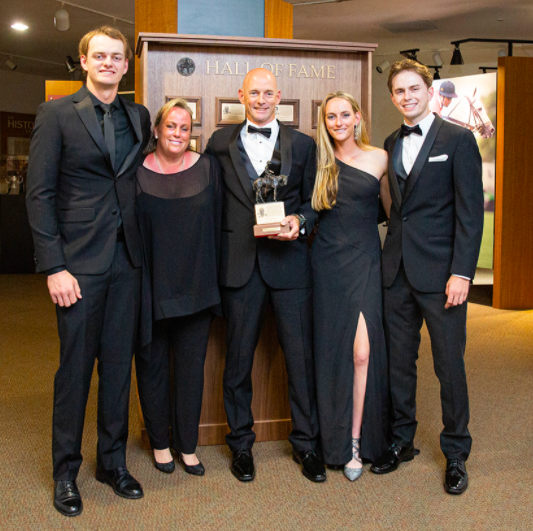 2021 Hall of Fame Inductee Julio Arellano with family - KZP Photo
This historic night was made possible out of the generosity of the event's sponsors. Thanks to Grand Gala Dinner Sponsors, Marc and Melissa Ganzi and Grand Champions Polo Club, guests were treated to an elegant dinner. Additional sponsorship support provided by Olexa Celine and the Robert I. Goldman Foundation, Ambassador Glen Holden, Postage Stamp Farm Foundation, and U.S. Polo Assn. helped make the night even more memorable.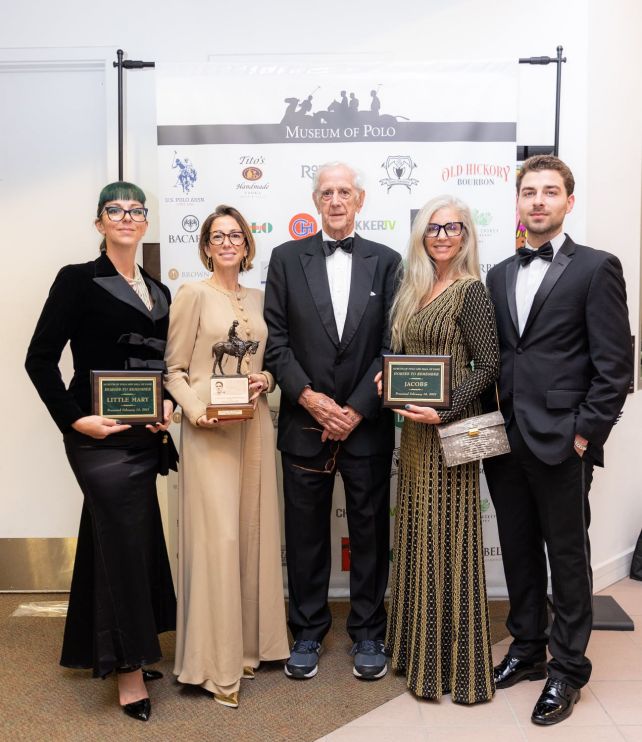 Receiving awards on behalf of Cornelius Vanderbilt Whitney (2022 Hall of Fame), Little Mary (2021 Horses to Remember), and Jacobs (2022 Horses to Remember), the Miller family. Leverett S. Miller (center), one of the founding fathers of the Museum of Polo and Hall of Fame - KZP Photo
Upon arrival guests proceeded directly to a spectacular tent behind the Museum that was doubled in size to accommodate the record-breaking crowd of four hundred. An hour of cocktails and passed hors d'oeuvres kicked off the festivities with beverages provided courtesy of Wine and Spirits sponsors Robert S. Lipman, Margaret Lipman Orthwein, Lipman Brothers, LLC, Brown-Forman, Bacardi USA, Tito's Handmade Vodka, Old Hickory Bourbon, Robert Hall Winery, and Korbel Champagne.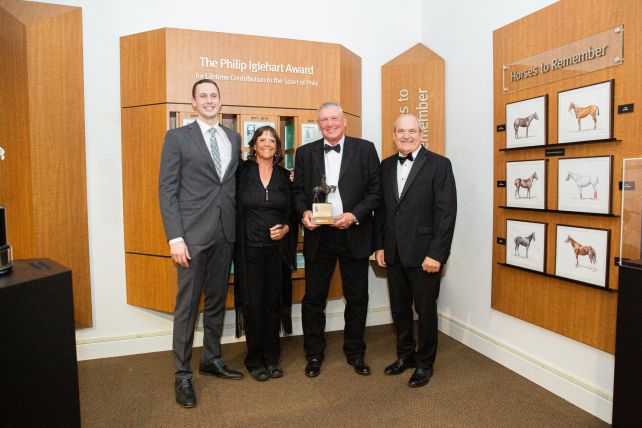 2021 Philip Iglehart Award recipient Paul Wollenman with family - KZP Photo
Master of Ceremonies duties were shared as Martin Cregg, along with Tony Coppola, welcomed guests and opened the evening with a solemn moment of silence for Frederic Roy, whose recent passing has been deeply felt by the polo community. The moment of silence was followed by the formal induction ceremony. Each inductee was individually recognized with brief remarks by Cregg followed by the acceptance of the award by the inductee or designated award recipient. As families, friends, and honored guests enjoyed their dinners, they listened to heartfelt and humorous tales of polo's most accomplished individuals. The celebration was truly one to remember.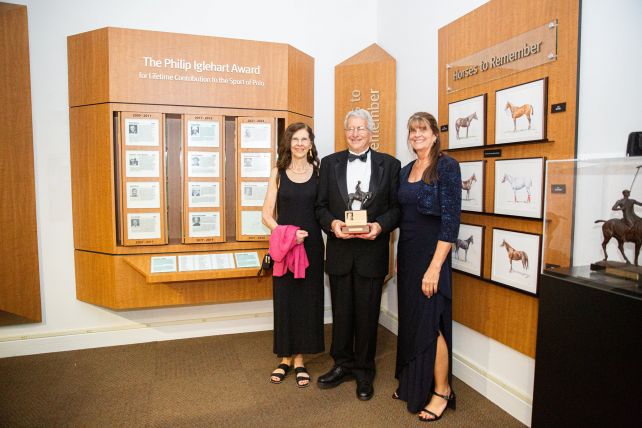 2022 Philip Iglehart Award recipient Danny Scheraga with family - KZP Photo
Guests took home beautiful gift books featuring artwork by Melinda Brewer, whose horse portraits hang in the Museum's Horses to Remember Exhibit. The gift books were generously sponsored by the Iconica Foundation, Steve Cox, and Amanda and Martin Cregg.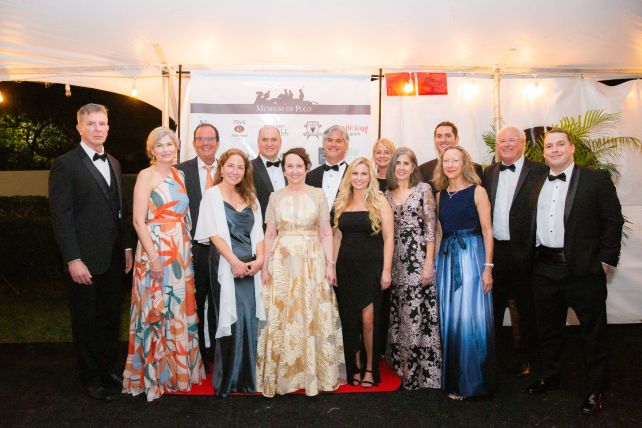 Tito Beveridge, who accepted the 2021 Philip Iglehart Award on behalf of his grandfather, Bert B. Beveridge, with family - KZP Photo
The National Museum of Polo and Hall of Fame is tremendously grateful to its Photography, Exhibit, and Social Media partners for capturing the memories of the 33rd Hall of Fame Induction Gala. Special thanks to Alex Pacheco, Krystal Zaskey Photography, the Morning Line, and Chukker TV for their hard work and contributions for this event and throughout the year. Additional photography for the presentations was provided courtesy of Kim Kumpart, Katie Roth, Snoopy, and Andrew Swaine.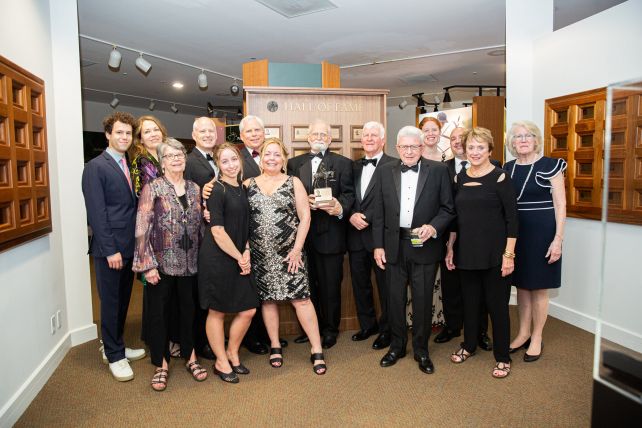 Family of 2021 Hall of Fame Inductee John F. "Jack" Ivory - KZP Photo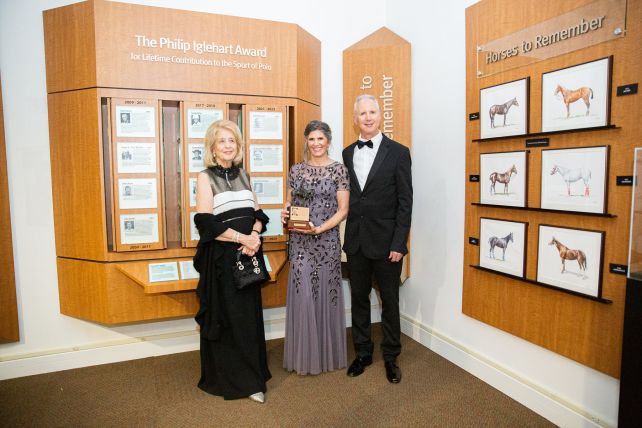 Gisele Laffaye Pansze, daughter of 2022 Philip Iglehart Award posthumous recipient Dr. Horace Laffaye, with husband Trent and friend Mary Boykin - KZP Photo