Don't Miss the International Cup to Benefit the Museum of Polo and Hall of Fame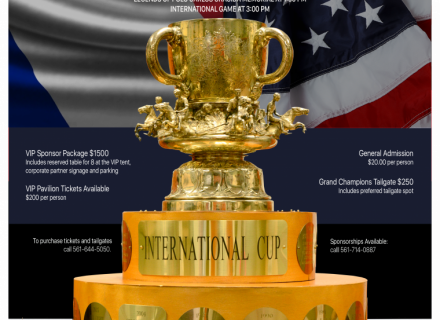 Please join us on Saturday, November 30th for the International Cup and Legends of Polo Carlos Gracida Memorial at Grand Champions Polo Club. It is a special day of polo, entertainment, and festivities that has grown to be a local holiday tradition. The success of this annual event is thanks to the efforts of Melissa and Marc Ganzi who have worked hard to create a friendly setting for polo that is welcoming to all.
The gates will open at 12:30 and the double-header kicks off at 1 p.m with the Legends of Polo Carlos Gracida Memorial played to honor Carlos Gracida, an icon of the sport who was inducted into the Museum's Polo Hall of Fame in 2012 before his tragic, untimely passing in 2014 at age 53.
At 3 p.m., the International Cup will feature Team USA against France. Last year, Team USA defeated Azerbaijan 9-7.5, to win the seventh annual International Cup event.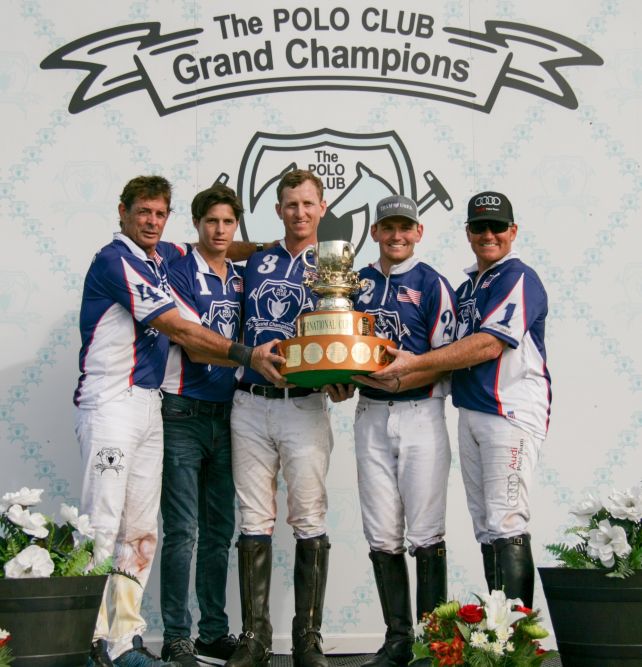 Juan Bollini, Juancito Bollini, Jeff Blake, Grant Ganzi and Marc Ganzi
A portion of proceeds from the event will help benefit the Museum of Polo and Hall of Fame, a 501 (c) 3 non-profit, educational organization. The only Museum in the world dedicated to preserving the history and tradition of the sport of polo, it is a unique treasure to not just our local community, but throughout the world. The Museum is supported through individual donations from polo people like you and events like this. We need your help to continue our mission, so what better way to help support your Museum than to attend a fabulous day of polo and entertainment at Grand Champions Polo Club.

Last year's winner of the Legends of Polo Carlos Gracida Memorial was Gracida Wine – from left in team jerseys – Julio Gracida, Mariano Gracida, Riley Ganzi, Carlitos Gracida with Michi Gracida, team for American Polo Horse Assoc. and Ruben Gracida. 
Tickets range from $20 to $1500.
To purchase tickets, call 561-644-5050 and for sponsorship packages call 
561-714-0887. 
You may also purchase tickets online through the link at http://www.gcpolo.com/
For More information on how to support the Museum of Polo, please call Brenda Lynn, 561 969-3210, e-mail: polomuseum@att.net. Our website address is www.polomuseum.com or follow us on Facebook.
Please contact the Museum if you wish to be added our email list to receive our online newsletters, press releases, and invitations to special events.