MUSEUM OF POLO REVEALS NEW INDUCTEES TO HALL OF FAME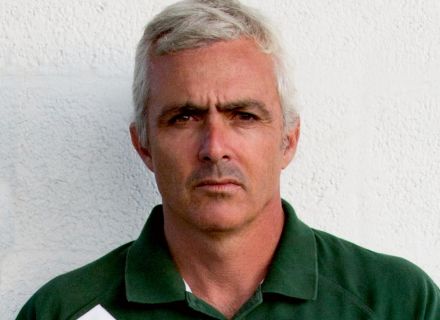 The Board of Directors of the Museum of Polo and Hall of Fame is pleased to announce that the Nominating Committee has made its selection of individuals who will join the exceptional group of men, women and horses in the Museum's Hall of Fame for 2017.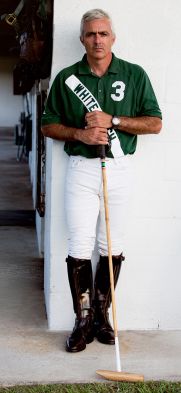 10-goal icon Mariano Aguerre will be honored for his long and illustrious career in American polo. Known for his essential role on the famed White Birch team, he has been a mainstay here since 1987 as a youngster of 18; he went on to capture the titles of the most prestigious tournaments in this country, among them the U.S. Open, twice, and eight Gold Cup wins, as well as having bred some of the most outstanding ponies of the game. Mariano also, in the true spirit of the Hall of Fame, aspires to "give back" to the sport he loves. He has, according to Team USPA committee Chairman Charles Smith, been an enormous help in mentoring the aspiring young players of the "Team USPA" program.
(Mariano Aguerre - photo by Juan Lamarca)
To be recognized as the posthumous Hall of Fame inductee is John "Jackie"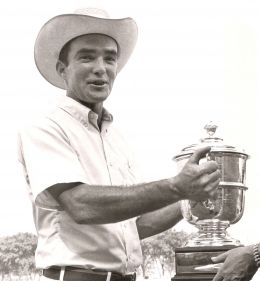 Murphy a star of the 50s and 60s, who won four consecutive U.S. Opens, a record that stood until 1996. He grew up playing polo in the Chicago area and is well remembered as a colorful figure that loomed large as part of the celebrated history of Oakbrook Polo Club. Before his untimely death at age 37, Jackie compiled an enviable record in polo.
To be honored for outstanding contributions to the sport will be Museum founder Leverett S. Miller, who through his extraordinary vision and unwavering effort built the only Museum of Polo in the world. Under his leadership, this magnificent home for the art treasures and historic content commemorating our sport was funded, constructed and completed, and a dream became a reality. The doors will have been opened exactly 20 years when Lev and the other inductees are feted in February 2017. Jack Oxley, a great Museum contributor, supporter and member of the Board as well as a Hall of Famer himself, may have summed it up best when he said, "Lev grabbed that ball and ran it in for a touchdown".
George Miller will be remembered with the posthumous Iglehart award. The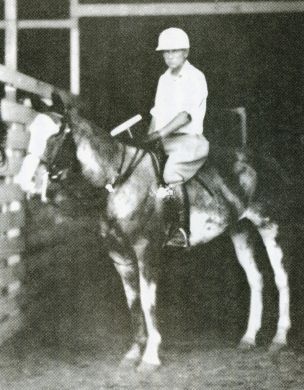 great Hall of Famers Cecil Smith and Rube Williams and many others credit Miller for mentoring them and launching their polo careers, putting both Texan players and horses on the map. As Museum Board member Paul Jornayvaz recalls it, Miller "was a man who more than anyone else could be credited with building the foundation of polo in Texas". He also patented a hackamore and a bit known as the Miller Gag, one of Cecil Smith's favorite training tools. Cecil Smith wrote, "George Miller knew more about horses than anyone I've ever known and he taught me most of all I know about them. There was a sign that hung over the entrance to (George's) Miller Field in San Antonio which I believe summed up his devotion to the sport of polo. It said, 'I don't want nothin' but a Good Polo Pony.'"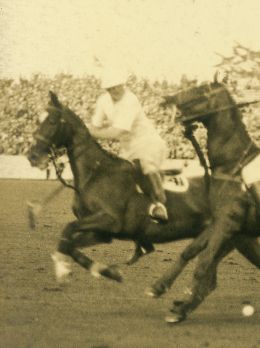 The Horses to Remember honoree of the early era is Chicken, but don't be fooled by the plain name. The gallant mare was discovered at the Front Royal Army Remount depot, and then as part of the fine string of polo ponies at Ft. Bliss played with heart, courage and tenacity throughout the 20s. She won the major awards of the era, twice in recognition as a mount for the Army serving in their notoriously hard-fought matches and then capturing the Prince Friarstown Cup awarded for the best mare playing in the International matches of 1927. Proving herself to be a true "war horse," Chicken earned her place playing for her country and "helped to make polo history" under Hall of Fame great Malcolm Stevenson.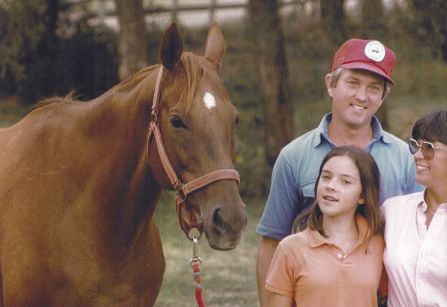 Charles Smith's great multi-award winning mare Nebraska Sunset is also to be honored. Purchased as a 3-year-old, she was trained by his father Cecil, and Charles played her for the next decade. She was the winner of the Hartman Award for Best Playing pony of the U.S. Open in 1980. Says Charles, "Nebraska Sunset was probably the best all-around horse I ever owned. She had the Best combination of speed and agility, very easy and anyone could play her from a beginner to a pro." Charles played the mare two periods in the 1979 Cup of the Americas games. "She has top speed, and great handle. I can get into more plays with her. I can gamble on her, take chances, because she can always get me back into a play." Nebraska Sunset is remembered by many of the great Hall of Famers and horsemen like Tommy Wayman as one of the top notch ponies of her time.
We invite you to join us in welcoming these inspirational figures to the Hall of Fame as we celebrate their accomplishments and contributions to the sport of polo.
The Awards Gala and Induction Ceremony will take place at the Museum of Polo on Friday, February 17th, 2017. If you would like to join in the celebration to welcome these legendary individuals to the Polo Hall of Fame, you may purchase seats for the dinner up to a week in advance. Reservations are $250.00 each (tax deductible portion $125.00). The Hall of Fame Awards Dinner is the most important fundraising event for the Museum each year, so we hope you will help support your Museum, a 501 (c) 3, not-for-profit organization. Contact Brenda Lynn at the Museum of Polo, (561) 969-3210 or (561) 969-7015, email: polomuseum@att.net for further details, information, or to make your reservations.