The Shippen Bronze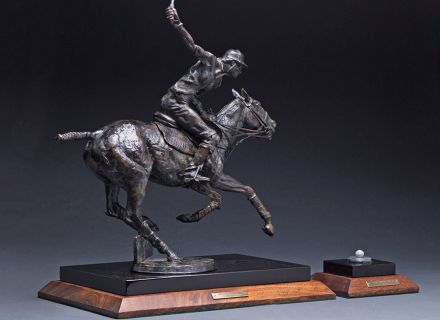 "The Lady Polo Player," a contemporary bronze sculpture by Gerald Anthony Shippen, was donated by the artist in honor of S. K. "Skey" Johnston Jr., a former President and Chairman of the USPA who was inducted into the Polo Hall of Fame in 2001. The sculpture, created in 2013, was modeled on Gillian Johnston.
Growing up in northwestern Wyoming, Shippen developed an early interest in drawing, painting and sculpting the people, animals and landscapes of his surroundings. A master of both anatomy and design, Shippen earned an MFA from the University of Wyoming and apprenticed in Italy in sculpture and lost wax bronze casting.
Shippen's work is carried by many galleries, exhibited via the American Art in Embassies Program, and held in public and private collections in the U.S.A., U.K., Germany, Hong Kong, India, New Zealand, the Netherlands, Qatar, and the United Arab Emirates.